Addressing Aging Breasts With Mastopexy: Santa Barbara Plastic Surgeon Explains Benefits of Breast Lift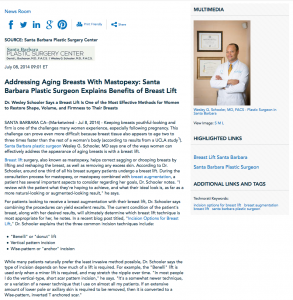 Dr. Wesley Schooler says a breast lift is one of the most effective methods for women to restore shape, volume, and firmness to their breasts.
Santa Barbara CA – Keeping breasts youthful-looking and firm is one of the challenges many women experience, especially following pregnancy. This challenge can prove even more difficult because breast tissue also appears to age two to three times faster than the rest of a woman's body (according to results from a UCLA study1). Santa Barbara plastic surgeon Wesley G. Schooler, MD says one of the ways women can effectively address the appearance of aging breasts is with a breast lift.
Breast lift surgery, also known as mastopexy, helps correct sagging or drooping breasts by lifting and reshaping the breast, as well as removing any excess skin. According to Dr. Schooler, around one third of all his breast surgery patients undergo a breast lift. During the consultation process for mastopexy, or mastopexy combined with breast augmentation, a patient has several important aspects to consider regarding her goals, Dr. Schooler notes. "I review with the patient what they're hoping to achieve, and what their ideal look is, as far as a more natural-looking or augmented-looking result," he says.
For patients looking to receive a breast augmentation with their breast lift, Dr. Schooler says combining the procedures can yield excellent results. The current condition of the patient's breast, along with her desired results, will ultimately determine which breast lift technique is most appropriate for her, he notes. In a recent blog post titled, "Incision Options for Breast Lift," Dr. Schooler explains that the three common incision techniques include:
"Benelli" or "donut" lift
Vertical pattern incision
Wise-pattern or "anchor" incision
While many patients naturally prefer the least invasive method possible, Dr. Schooler says the type of incision depends on how much of a lift is required. For example, the "Benelli" lift is used only when a minor lift is required, and may stretch the nipple over time. "In most people I do the vertical-type, short scar pattern incision," he says. "It's a somewhat newer technique, or a variation of a newer technique that I use on almost all my patients. If an extensive amount of lower pole or axillary skin is required to be removed, then it is converted to a Wise-pattern, inverted T anchored scar."
Achieving a more youthful-looking breast shape is something many women can benefit from, notes Dr. Schooler. He adds that life changes such as pregnancy, weight gain, or weight loss can significantly alter the breast volume and shape, making surgical correction a very effective solution. For those considering a breast lift, Dr. Schooler advises patients select a well-experience, board-certified surgeon who thoroughly understands her needs and goals. "We have a very humble, family-like office staff," says Dr. Schooler regarding the Santa Barbara Plastic Surgery Center. "I'm always available, so we are a very personalized service." Understanding each patient as an individual, and providing expert surgical technique with a high quality of care are the critical components of a successful surgery, says the Santa Barbara plastic surgeon.
About Wesley G. Schooler, MD, FACS
Dr. Wesley G. Schooler is a board-certified plastic surgeon who earned his medical degree from the University of North Carolina at Chapel Hill. He completed his residency in plastic surgery at the University of California San Francisco, a fellowship in hand surgery and microsurgery at the Hand Center of San Antonio, and has 11 years of surgical training. Dr. Schooler is highly experienced with aesthetic surgery of the face, breast and body, and he focuses on the latest advances in breast reconstruction, and bariatric surgery body contouring. Previously, Dr. Schooler served as the Service Chief Plastic and Reconstructive Surgery at LAC-USC Medical Center and an Assistant Professor at the Keck School of Medicine of USC and Norris Cancer Center. He was a founding member of the Los Angeles Center for Women's Health, a comprehensive total women's health clinic in downtown Los Angeles. He has also been recognized by his peers as a top plastic surgeon by Pasadena Magazine and Los Angeles Magazine. He is available for interview upon request.
To learn more about Dr. Schooler and Santa Barbara Plastic Surgery Center, please visit sbplasticsurgery.com and facebook.com/pages/Santa-Barbara-Plastic-Surgery-Center/150166175176095.
1 Horvath, S. "DNA methylation age of human tissues and cell types." Genome Biology 2013, 14:R115.
Contact:
Santa Barbara Plastic Surgery Center
427 W. Pueblo St.
Santa Barbara, CA 93105
(805) 395-4545
Rosemont Media
[email protected]
(858) 200-0044
www.rosemontmedia.com