Revitalizing Your Facial Appearance with a Face and Neck Lift
We would all like to look as good as we feel. As the face ages, many people turn to cosmetic surgery to achieve a smoother, firmer, and more youthful look. Indeed, a surgical facelift can enhance the facial appearance by smoothing loose skin on the face, tightening underlying tissues, and removing excess fat. At Santa Barbara Plastic Surgery Center, our plastic surgeon performs a facelift in combination with neck lift surgery to provide extensive rejuvenation in the areas where aging is most apparent. If you would like to find out if you would be a good candidate for a facelift, contact the Santa Barbara Plastic Surgery Center today.
"My husband says I look so young now that he needs a procedure to match me."

-Neck and Face Lift Patient
What is a Facelift?
A facelift, also known as rhytidectomy, is a facial plastic surgery procedure designed to reposition and tighten lax facial tissue in order to minimize signs of aging. Over time, the effects of sun exposure, the natural aging process, gravity, and decreased collagen production can cause loose or sagging skin to develop in the face and neck, creating an aged appearance. A facelift is considered a highly effective solution to restore a more youthful look for long-lasting results that appear very natural.
The treatment is performed differently for each patient based on one's unique goals, anatomical facial structure, and aesthetic concerns. Therefore, if you are considering facelift surgery, it is extremely important to consult with an experienced plastic surgeon, such as Dr. Wesley Schooler, about your expectations for the outcome.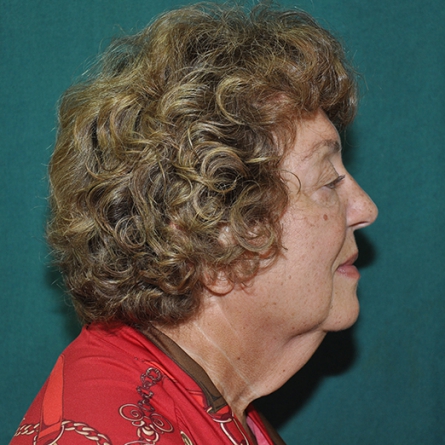 Before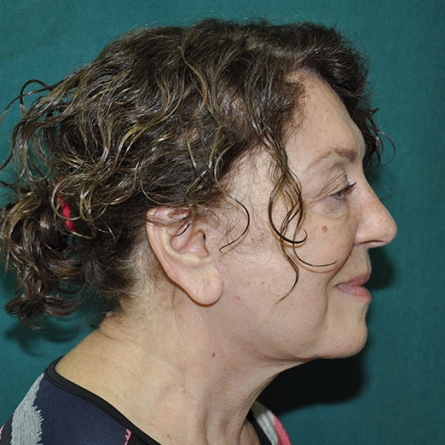 After
What is a Neck Lift?
More often than not, the appearance of aging skin is not exclusive to the face. Lax skin and excess fatty deposits can also congregate in the neck and under the chin, forming vertical neck bands and compromising a defined and youthful neck profile. With a neck lift, these concerns can be addressed in conjunction with facelift surgery or as a separate procedure. Treatment involves removing excess skin and fat in the neck while tightening the underlying tissue and musculature to achieve a more contoured and youthful look. Dr. Schooler offers a neck lift with facelift surgery to correct jowls along the jawline and sagging tissue under the chin for far-reaching cosmetic enhancement.
What Signs of Aging Can a Facelift Treat?
As the most enduring method of facial rejuvenation currently available, a facelift can be utilized to improve:
Loose and sagging facial skin
Jowls along the jawline
Wrinkles, fine lines, and creases
These concerns typically develop over time as the skin loses elasticity and becomes lax. A facelift can be a powerful way to combat these changes and yield smoother, tighter, and firmer facial skin. When a neck lift is combined with a facelift, patients can additionally smooth horizontal bands, correct the appearance of a "turkey neck," and enhance the overall neck contour. Dr. Schooler also offers a skin resurfacing CO2 laser treatment in conjunction with a face and necklift to provide even more improvement in the texture and appearance of the skin.
How is the Facelift Procedure Performed?
A facelift is an outpatient procedure performed under general anesthesia. Incisions are typically hidden in discreet locations within the hairline, behind the ears, or along the natural contours of the face to allow a natural-looking result. During a facelift, Dr. Schooler targets the underlying SMAS layer, the supportive framework of the face that envelops the muscles, skin, and fat. Because the effects of gravity, aging, and environmental stressors can weaken the SMAS layer and cause facial laxity to develop, our plastic surgeon performs a facelift by tightening and repositioning this layer of musculature for a more refreshed aesthetic. Pronounced creases will be smoothed, and lax facial skin will be minimized. If you are undergoing a neck lift with a facelift, excess skin and fat will also be removed to make the neck more youthful. The surgery can take four to six hours, depending on the extent of your concerns.
Facelift Consultation
Depending on your aesthetic goals, a facelift  can take years off of your appearance and give you a more youthful, refreshed look. By meeting with our plastic surgeon, you will learn more about the risks and benefits of facelift surgery, as well as pre- and post-operative information, the costs associated with a facelift, and more. You can also request a brochure on the facelift procedure from the Santa Barbara Plastic Surgery Center. Our plastic surgeon is highly skilled performing a face and neck lift and aim for beautiful and natural-looking results. In planning for surgery, there are many behavioral patterns that can affect the results of a facelift. During your initial consultation, be sure to make our plastic surgeon aware of any behaviors that may affect surgery results, such as smoking or tanning habits as well as planned weight loss. Other aspects, such as your age and skin type, will also affect the final outcome of a facelift.
What is the Facelift Recovery Process Like?
After surgery, bandages or a light supportive facial garment may be worn to facilitate the healing process. This can also help diminish swelling, which patients typically experience to some degree after the procedure. Oral pain medications can help manage any swelling, bruising, or tenderness that may arise following a face and neck lift, with these reactions often resolving on their own as the recovery period progresses. Most patients can return to their daily routines within one to two weeks, although the amount of downtime required will depend on each individual's unique rate of healing. Strenuous activity and aerobic exercise should be avoided for approximately four weeks.
How Much Does a Facelift Cost?
The price of a facelift depends on a number of factors, including whether a neck lift was performed as part of your treatment, the surgical technique used, and the extent of concerns addressed.
Our plastic surgeon has the opportunity to examine your concerns during a consultation, our office will be able to provide you with an accurate quote of your facelift expenses. In addition to accepting most major payment methods, our practice works with CareCredit® and Alphaeon™ Credit to allow patients the option of paying for their surgery over time. These premier plastic surgery financing companies offer qualified applicants a range of flexible payment plans with low monthly installments to make the cost of a facelift more affordable. If you have further questions regarding the price of a facelift and/or neck lift, please reach out to our practice to speak to a member of our team.
Please contact us today for more information, or to schedule a consultation. We will be happy to answer any questions you may have on facelift or neck lift procedures.