Aging, childbearing, breast-feeding, and weight loss can cause the breasts to sag and lose their shape. Our board-certified plastic surgeon, Dr. Wesley Schooler, MD, can help you restore the desired contour and size of your breasts through a cosmetic procedure known as a mastopexy — commonly known as breast lift surgery. A breast lift is designed to reshape and raise the breasts to a more youthful location on the chest wall in order to improve projection, minimize sagging, and enhance the breast shape. During surgery, loose skin contributing to the appearance of breast sagging is removed while the surrounding breast tissue is tightened to create a rejuvenated breast. If you're interested in adding size and volume to the bustline, Dr. Schooler can also place breast implants in conjunction with the breast lift procedure to provide a more powerful improvement.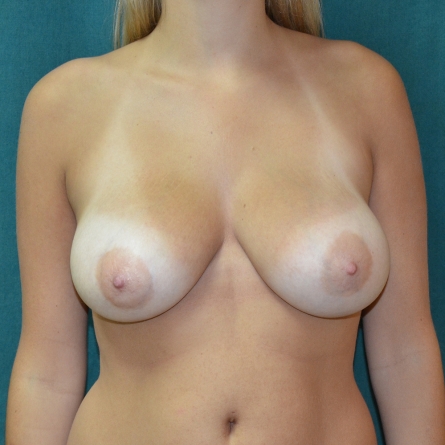 Before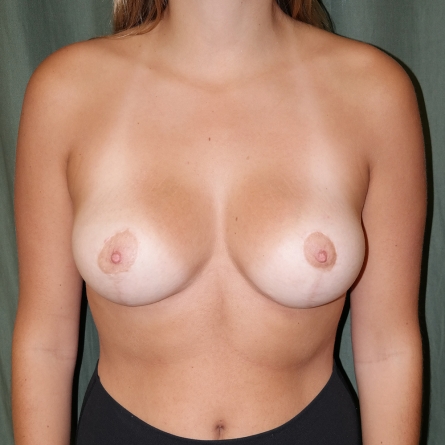 After
"Dr. Schooler, You made me look brand new! Thanks so much and god bless you!"

-Breast Surgery Patient
What Can a Breast Lift Achieve?
A breast lift is a popular treatment option for patients whose breasts have lost firmness or shape as a result of pregnancy, nursing, weight fluctuation, the natural aging process, or genetic factors. Those with breast skin laxity and resultant sagging of the breast tissue can typically benefit from a breast lift. In general, mastopexy can be used to:
Rejuvenate the breast shape and enhance the contours of the breasts
Elevate the breasts to a more central location
Improve breast projection and symmetry
Reposition and/or resize the nipples and areolas
This procedure is designed to remove excess tissue and improve a flat, elongated, or "deflated" look. That said, a breast lift will not significantly reduce the size of your breasts. If you feel your breasts are too large or experience symptoms like back and shoulder pain, Dr. Schooler also performs breast reduction surgery to help patients attain a more comfortable, proportional breast size.
Is a Breast Lift Right for Me?
Changes in the breast tissue are often a normal part of the natural aging process, and may be caused by factors that range from hormonal fluctuations to weight loss. If your chest contours have changed shape, mastopexy can be an extremely effective procedure to firm, tighten, and better define the breasts. You may consider a breast lift if you:
Want to correct mild to severe breast ptosis, or "drooping"
Have breasts that sag below the inframammary fold (breast crease)
Have nipples that point downward
Are a healthy non-smoker with realistic expectations for the outcome
Dr. Schooler will help you determine whether a breast lift is the best procedure to achieve your goals during a consultation. Pregnancy and nursing can often shorten the longevity of the results achieved with breast lift surgery, so Dr. Schooler may advise patients who plan on having children to postpone the procedure until their family is complete.
Degrees of Breast Ptosis
Most women exhibit some degree of breast ptosis, or drooping breast tissue, at some point in their lifetime. Mild cases of breast ptosis often do not show significant sagging, but the severity of ptosis is typically higher the more pendulous the breasts appear to be. Signs that indicate a higher degree of breast ptosis are often physically evident; therefore, the condition is typically categorized into different grades of severity:
Pseudoptosis: As the most minor form of breast ptosis, pseudoptosis is indicated by mild sagging of the lower breasts, though the nipples do not yet droop below the inframammary fold (breast crease).
Grade I: With the first grade of ptosis, the breasts often exhibit mild sagging and the nipples are usually level with the inframammary fold.
Grade II: Characterized by moderate sagging, the nipples typically fall below the natural breast crease in the second grade of ptosis.
Grade III: As the most significant grade of breast drooping, grade three exhibits substantial pendulousness and the nipples may point downward.
While this simply provides a brief overview of the various types of ptosis, understanding which category you most closely identify with can help you determine whether you would benefit from the mastopexy procedure. Regardless of where you believe you fall, it's important to consult with a plastic surgeon to discuss your concerns and receive personal guidance on the best treatment options to achieve your goals.
How is Breast Lift Surgery Performed?
It is important for patients to know and understand all aspects of breast lift procedures. At your initial consultation, Dr. Schooler will explain the benefits and risks of the surgery, as well as what you can expect before, during, and after surgery. Our plastic surgeon will also answer any questions or concerns you may have about a breast lift, and together, you will decide if the procedure can ultimately fulfill your aesthetic enhancement goals.
During a breast lift, Dr. Schooler will remove excess skin that is causing the appearance of breast drooping and sagging. The remaining skin is tightened and the nipples are moved to a higher location, giving the entire breasts a more rejuvenated appearance overall. The entire procedure usually takes two hours or less to complete under general anesthesia and can be performed as an outpatient.
What is Breast Lift Recovery Like?
After surgery, the breasts will likely feel swollen or tender for a few days. A compression bandage or surgical bra will be worn temporarily to help support your breasts and facilitate the healing process. While bruising and swelling is normal, any discomfort can typically be managed well with oral pain medications. Most patients can return to their daily routines within one to two weeks, although strenuous activity should be avoided for about four weeks. Dr. Schooler will provide you with detailed post-operative instructions regarding incision care, activity restrictions, and more at the time of surgery to maximize your healing process.
How Do Breast Lift Results Last?
For the majority of patients, the results of breast lift surgery can last indefinitely. Many patients report their rejuvenation lasts at least 10 to 15 years or longer. Certain factors may still affect the outcome of your procedure, such as:
Weight gain or loss: When your weight fluctuates, the natural elasticity of your skin decreases. Since elasticity is essential to the skin's ability to conform around your breast contours, repetitive weight gain or loss may cause the skin to stretch after mastopexy.
Pregnancy and breastfeeding: Having children can inhibit your ability to maintain a stable weight, as well as cause hormonal fluctuations. Both can affect the elasticity of the skin and breast tissue, potentially leading to recurrent breast sag.
Hormonal changes: Menopause and other changes to the body's hormone levels may alter the breast contours. While nothing can stop the effects of aging, living an active lifestyle is the best way to help regulate your weight and hormone levels.
To get the most out of your breast lift results, it's important to exercise regularly and maintain a healthy diet. Although the natural aging process will continue after the procedure, patients who received a breast lift will always have more youthful and rejuvenated breast contours compared to women who did not undergo surgery.
Will I Have Scars From Breast Lift Surgery?
While all surgical procedures will leave visible scars, the incisions for breast lift surgery are placed as discreetly as possible to help ensure results look natural. Some mastopexy techniques allow the incisions to blend into the natural contours of the areolas and breast fold, resulting in fairly inconspicuous scarring after surgery. The best approach to a breast lift will differ for each patient, and Dr. Schooler will show you exactly where your incisions are likely to be placed so you understand what to expect after the procedure. In all cases, breast lift scars can be easily concealed underneath a bra or bikini top. Furthermore, closely following our team's aftercare instructions can encourage the best possible healing of your incisions and allow your scars to lighten over time.
How Much Does a Breast Lift Cost?
According to 2017 statistics taken by the American Society for Aesthetic Plastic Surgery (ASAPS), the national average price of a breast lift is approximately $4,895, not including fees from anesthesia, the surgical facility, post-operative care, or other related expenses. The price of surgery will also vary depending on your geographic location and the expertise of your plastic surgeon. Other factors unique to your procedure that may influence your cost estimate include:
The breast lift technique utilized
Whether implants were placed at the time of surgery
The extent of concerns addressed
The overall complexity of the surgery
For patients who would rather pay for their treatment over time rather than in a lump sum, our practice works with both CareCredit® and Alphaeon™ Credit. These plastic surgery financing options offer qualified applicants a range of payment plans with low monthly installments to make the cost of a breast lift more affordable. Once approved, patients can receive their desired enhancement while adhering to any budgetary concerns. To speak to a member of our team about the cost of a breast lift, please reach out to our practice today.
Is a Non-Surgical Breast Lift Possible?
Replicating the results of a breast lift without surgery is not possible. Since the primary reasons behind the development of breast sag is a combination of stretched tissue and inelastic skin, the breasts cannot be effectively lifted without removing/repositioning excess tissue. Only by surgically reshaping the breasts can patients achieve the rejuvenated, youthful contours they typically seek with mastopexy.
Some patients inquire whether "breast lift exercises" are able to improve the appearance of ptosis. Unfortunately, workouts designed to target the chest usually only strengthen the pectoral muscles rather than address the excess skin and glandular tissue resulting in pendulousness. For this reason, dieting and exercise rarely, if ever, improves the appearance of the breasts. In fact, many patients who have lost a significant amount of weight incorporate a breast lift into their post-bariatric body contouring plan to get rid of the excess skin and achieve a more defined breast shape.
Complements to Breast Lift Surgery
A breast lift can achieve great results on its own, but surgery is often incorporated into a larger treatment plan to provide a more dramatic transformation. While the best additions to mastopexy depend on your personal goals, procedures that are commonly combined with a breast lift include:
Breast Augmentation: An excess of loose skin in the breasts is often accompanied by a loss of breast volume. If your breasts seem to appear flat or overly stretched, breast augmentation can be an excellent addition to produce a fuller, rounder breast shape. This combined procedure is known as a breast lift with implants.
Arm Lift and Thigh Lift: An arm lift and/or thigh lift is typically performed with mastopexy when patients also have hanging skin around their upper arms or inner thighs — usually due to major weight loss or bariatric surgery.
Liposuction: Some patients who undergo breast lift surgery also choose to remove fat around the mid-back or "bra line" to achieve a slimmer, smoother contour in the region. Liposuction can smooth these bulges and act as a powerful addition to breast lift surgery.
If you're seeking complementary procedures to breast lift surgery, Dr. Schooler can create an ideal treatment plan to suit your needs and desires. Potential treatment options can range from a post weight loss surgical plan to a Mommy Makeover.
Additional Breast Lift FAQs
Does a breast lift make your breasts smaller?
While a breast lift does remove tissue in order to reshape the breast contours, the procedure will not significantly decrease the size of the breasts unless combined with breast reduction. Patients generally notice renewed firmness, youthfulness, and perkiness in their breasts after mastopexy, but don't typically experience a significant reduction in volume. If you're seeking additional fullness and volume in your breasts in conjunction with less ptosis (sagging), Dr. Schooler may suggest a breast lift with implants rather than the mastopexy procedure in isolation.
Can you breastfeed after a breast lift?
Breastfeeding after mastopexy is certainly possible, but it's important for you to communicate your needs to Dr. Schooler so he can customize your treatment plan. While there are techniques that can potentially preserve the ability to breastfeed, this isn't always possible for all patients. When it comes to your results, it's generally in your best interest to wait until you have no future plans for having children before receiving a breast lift. Pregnancy and nursing can stretch the skin and change the shape of the breasts, sometimes reducing the quality of the final outcome. Dr. Schooler will discuss the possibility of breastfeeding after mastopexy with you in person, if necessary, to help ensure you understand what to expect after the procedure. It's also notable that not all women are able to breastfeed, even before surgery.
Should I get a breast lift or a breast reduction?
The most ideal procedure to achieve your goals depends on what you hope to accomplish — patients who primarily want a smaller, more proportional breast size usually benefit more from breast reduction. This is especially true if you're bothered by the painful symptoms often associated with large breasts, such as aching, skin chafing, and bra strap indentations. In contrast, if your main goal is to obtain younger, more rejuvenated breast contours, a breast lift alone generally provides excellent results. Ultimately, every patient interested in cosmetic surgery should consult with a board-certified plastic surgeon to identify the best treatment option for their needs.
Is breast lift surgery covered by insurance?
Unfortunately, breast lift surgery is considered a cosmetic procedure and does not present a medical necessity. As a result, insurance companies usually do not provide coverage for a breast lift. However, patients interested in the procedure can still make the costs of surgery more affordable through patient financing. Dr. Schooler accepts CareCredit® and ALPHAEON® Credit for qualified patients, and our office would be happy to discuss financing options with you during your visit.
Is a breast lift safe?
Yes, a breast lift can be safe and effective when performed by a highly trained board-certified plastic surgeon. As a surgical procedure, there are risks associated with mastopexy including possible infection, complications with anesthesia, breast asymmetry, changes in skin or nipple sensation, and fluid accumulation, among other negative reactions. Choosing an experienced plastic surgeon who you can trust to achieve your goals often maximizes the safety of your procedure.
If you would like to learn more about a breast lift, or if you are ready to schedule a consultation with Dr. Wesley Schooler, please contact Santa Barbara Plastic Surgery Center today.