Liposuction is a procedure that can remove excess fatty tissue from virtually any area of the body. Despite a healthy diet and consistent exercise habits, many individuals find that there are fat stores around the body that remain resistant to natural toning efforts. These stubborn pockets of fat are often difficult to eliminate with diet and exercise alone, prompting patients to pursue another solution to help them reach their goals. Liposuction from our plastic surgeon in Santa Barbara can be a relatively simple treatment to slim fat bulges and problem areas for results that can be seen almost immediately.
What is Liposuction?
As one of the most frequently performed cosmetic surgeries in the country, liposuction is often considered the gold standard of selective fat removal. This technique is designed to gently suction out fat cells using a long, thin surgical instrument called a cannula. While not intended to be a method of weight loss, liposuction can be an effective and reliable method of body contouring if you are near your ideal weight and simply struggle with localized fat pockets. There are a variety of different liposuction procedures available at Santa Barbara Plastic Surgery Center, and it is important to discuss the most effective technique for your particular concerns. Dr. Wesley Schooler can advise all patients seeking liposuction to determine which procedure is best for their needs.
What Can Liposuction Address?
Liposuction is among the most effective fat removal and body sculpting procedures performed today. In fact, the procedure has been one of the top cosmetic surgeries performed in the country for the last several years. In general, liposuction can:
Remove up to 80 percent of fat in a given area
Sculpt areas of excess fat where dieting and exercise cannot reach
Smooth common bulges known as "love handles," "muffin tops," "bra bulges," and more
Provide your desired body shape/contours in the targeted region(s)
Best of all, liposuction permanently removes the targeted fat cells and can provide results that last a lifetime. Liposuction is also considered among the safest and most predictable cosmetic surgeries available, with decades of research to support its effectiveness.
What Causes Stubborn Fat?
"Stubborn" fat refers to subcutaneous fat deposits that do not respond well to dieting and exercise, often causing frustration for men and women who aren't able to attain the physique they desire no matter how strenuously they work out. This type of adipose (fatty) tissue differs from the vascular fat stored inside your body, which generally resides in the abdominal cavity and can be very responsive to a balanced diet and an active lifestyle. Subcutaneous fat, on the other hand, accumulates in natural fat stores around the body and may not be affected by natural solutions like healthy eating and exercise.
Since your metabolism naturally slows down as you get older, stubborn fat tends to build up as a patient ages. Women, in particular, often accumulate more stubborn fat in the lower body when compared to men, simply due to anatomical differences. Your genetics, diet, alcohol consumption, stress levels, and hormones can also affect how much stubborn fat is stored around the body. While selective fat removal cannot reduce vascular fat, liposuction can be an optimal way to target exercise-resistant fat bulges.
What Areas of the Body Can Liposuction Treat?
Liposuction is often utilized to smooth "bra rolls," "love handles," and other bulges of fat that are difficult to reduce with diet and exercise alone. Surgery can provide a slimmer and more defined look in many different regions, including the:
Abdomen
Upper arms
Thighs and hips
Flanks and waistline
Back
The best results are usually achieved in areas with good skin elasticity, meaning the skin is well-suited to contract around your new body contours. Dr. Schooler can evaluate the quality of your skin to determine whether liposuction can achieve the results you desire. For patients who wish to sculpt their abdomen but experience skin laxity and/or loose musculature, a tummy tuck may be able to more effectively tighten and smooth the area around the midsection. Our plastic surgeon can discuss all of your treatment options at the time of consultation.
Is Liposuction Right for Me?
Liposuction can benefit a wide range of patients who are looking to slim, smooth, or reduce areas of excess fat buildup. This body sculpting procedure usually provides the most successful results when patients have good skin tone in the planned treatment area. You may also be a good candidate for liposuction if you are:
Near your ideal weight, and do not view the liposuction procedure as an option for weight loss
A non-smoker who is healthy enough to undergo the recovery period
Able to maintain realistic expectations for the outcome and have a positive outlook on surgery
Willing to be active after the procedure to prevent future weight gain
To confirm that liposuction is the best treatment choice to achieve your goals, Dr. Schooler will review your medical history and ask you about your expectations for the outcome. He will then create a personalized treatment plan tailored to address your area(s) of concern.
Liposuction vs. Tummy Tuck
Liposuction and abdominoplasty are two procedures frequently performed to flatten the abdomen, sometimes leading to confusion about which technique is the best option to achieve your desired look. In general, the abdomen may bulge due to sagging skin, excess fat, stretched musculature, or a combination of all three. Knowing what factors are causing your abdomen to protrude outward can help identify the most optimal procedure for your concerns, which is why an initial consultation with Dr. Schooler is essential to achieving your aesthetic goals.
Liposuction is solely designed to remove excess fat, and can be ideal for patients with little to no loose skin in the abdominal area. If you live an active lifestyle and only struggle with exercise-resistant fat bulges, this may be an indication that liposuction is enough to achieve the slimmer, tauter look you desire. On the other hand, having children and/or undergoing significant weight fluctuations can stretch out the skin as well as separate the underlying musculature. For these concerns, a tummy tuck can be the most appropriate solution to restore a smooth body contour. Dr. Schooler would be happy to explain the difference between the two procedures in further detail and recommend the most ideal option for you.
How is the Liposuction Procedure Performed?
After confirming that you are a good candidate for liposuction, the surgery is typically performed as an outpatient procedure utilizing general anesthesia. Depending on the volume of fat that is planned for extraction, an overnight stay may be necessary in some cases. To begin, Dr. Schooler will carefully make incisions near the treatment site, strategically placing them in natural creases and other inconspicuous locations whenever possible. There are a number of liposuction techniques that can contour the targeted region(s) and achieve natural-looking results: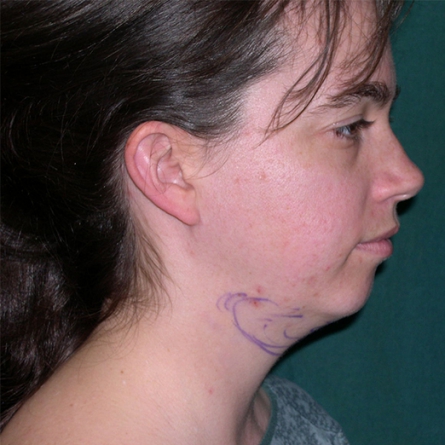 Before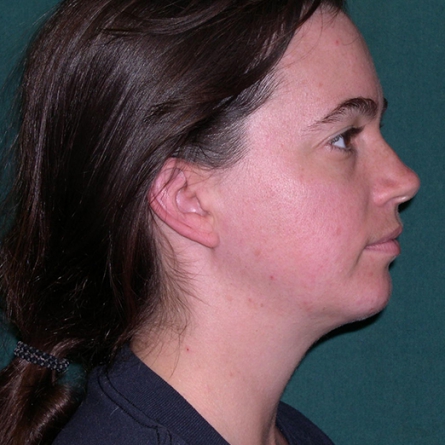 After
"My liposuction looks great! I will be back for more and I am bringing my whole family!"

-Liposuction Patient
Tumescent Liposuction
Tumescent liposuction may be the most common approach to selective fat removal. This technique injects an anesthetic solution into the treatment site before suction, introducing a mixture of medication in the area that can decrease swelling and discomfort as well as reduce blood loss for a smoother recovery process.
Super-Wet Liposuction
With super-wet liposuction, a solution of fluids is injected into the region similar to tumescent liposuction; however, a lesser amount is used. This is done to soften the fat and make the removal process easier while minimizing bruising, swelling, and blood loss. Super-wet liposuction typically utilizes general anesthesia.
Ultrasound-Assisted Liposuction
In ultrasound-assisted liposuction, the suction process is complemented with an emission of sonic energy. These ultrasonic waves, emitted from a narrow cannula, can break down fat cells and liquefy the targeted fat, allowing a smoother fat removal process. This technique can be advantageous for more fibrous areas of the body, such as the back.
What is Recovery After Liposuction Like?
Recovery after liposuction is often considered minimal when compared to other surgical procedures. Bruising, swelling, tenderness, or numbness is to be expected, with these side effects typically resolving on their own within a few days or weeks of the procedure. A compression garment will likely be worn temporarily to minimize swelling and facilitate the healing of your new contours. The results of liposuction can be immediately noticeable, but the outcome usually improves as swelling subsides completely, within four to six weeks after surgery.
How Long Do Liposuction Results Last?
Since the fat cells extracted via liposuction do not "regrow," your results should last indefinitely as long as you maintain a stable weight. The longevity of the outcome truly depends on your commitment to a nutritious diet and regular exercise after your procedure. Adopting a healthy lifestyle is essential to preserving the outcome of liposuction, as fat removal in one region of the body cannot prevent additional weight gain elsewhere. Even after surgery, excess fat can still be redistributed to other areas when surrounding fat cells shrink or enlarge. For this reason, Dr. Schooler recommends staying active after liposuction to help maintain your new contours.
Will I Have Liposuction Scars?
While scarring after virtually any surgical procedure is inevitable, liposuction scars are often so small and discreet that they appear inconspicuously to outside observers. Thanks to Dr. Schooler's meticulous surgical technique and the tiny incisions used to insert the cannula into the treatment site(s), the extent of scarring after liposuction is usually minimal. To get a better understanding of what you can expect after surgery, we encourage you to explore our liposuction gallery to view the outcomes achieved with previous patients. Dr. Schooler will also show you exactly where your potential scars are likely to appear during your initial consultation.
How Much Does Liposuction Cost?
In recent statistics from the American Society of Aesthetic Plastic Surgery (ASAPS), the average cost of liposuction nationwide was listed as $3,300. However, the price of cosmetic surgery generally varies by plastic surgeon and geographic location, as well as the details of your treatment plan. After Dr. Schooler examines your concerns in a consultation, our office will be able to calculate your personalized quote based on:
THE NUMBER OF AREAS PLANNED FOR TREATMENT
THE VOLUME OF FAT PLANNED FOR EXTRACTION
THE LIPOSUCTION TECHNIQUE USED
If you are interested in paying for liposuction over a period of time rather than all at once, our practice accepts plastic surgery financing through CareCredit®. This trusted healthcare lending institution provides qualified applicants with an array of short- or long-term payment plans that can be chosen to suit your unique budget. For more information about our accepted modes of payment, please reach out to our practice to speak to a member of our team.
Are There Any Risks Associated With Liposuction?
Potential complications unique to liposuction typically include the rare chance of contour irregularities, loss of sensation, and fluid accumulation, among other side effects. Liposuction also involves the same risks that exist with any surgical procedure, such as the possibility of:
Infection
Negative reactions to the anesthesia
Poor healing
Bleeding
That said, liposuction is considered a very safe and predictable fat removal technique for patients who are under the care of a board-certified plastic surgeon. Though serious side effects during or after liposuction are extremely rare, you can feel confident knowing that a board-certified plastic surgeon will fully evaluate your medical history and areas of concerns before surgery to help ensure liposuction is the safest and most effective treatment option for your needs.
Is Non-Surgical Liposuction Effective?
While certain non-surgical modalities can successfully break down fat cells, liposuction will always be considered the most powerful method of selective fat removal available. Unlike minimally invasive technologies, which usually can only reduce excess fat by up to 30 percent in one treatment, liposuction is capable of removing 80 percent of fat in the treated area(s) at once. Furthermore, liposuction can reshape multiple parts of the body during the same procedure, whereas med spa treatments often require numerous treatment sessions to achieve comparable results. Many patients also prefer liposuction because results are often visible immediately after surgery. This differs from non-surgical fat reduction, in which the outcome typically unfolds gradually over the following months. Ultimately, non-surgical treatments performed to smooth fat bulges are capable of yielding some improvement; however, these techniques usually cannot achieve the same quality of results as liposuction.
Complementary Treatments to Liposuction
Depending on your goals, liposuction may be complemented by minimally invasive technologies like BodyTite® — a treatment that can help remove fat while simultaneously tightening loose skin. BodyTite® uses radiofrequency energy to gently heat the underlying fat as well as the surface of the skin, resulting in dual improvement of your body contour. For this reason, BodyTite® is frequently performed in conjunction with liposuction to further refine the results of your surgery. This is especially true for patients who show mild signs of skin laxity or loose, inelastic skin.
For a more comprehensive or dramatic transformation, liposuction is also commonly included in a Mommy Makeover. This surgical plan combines multiple procedures with the goal of reversing the body changes caused by pregnancy and nursing. You may consider making liposuction a component of a full Mommy Makeover if you're also bothered by aesthetic concerns like a bulging abdomen, loss of shape in the breasts, or increased breast ptosis (sagging).
Does Liposuction for Men Differ From Liposuction for Women?
While the fat-suctioning techniques employed during liposuction are used for both male and female patients, certain distinctions do exist. On top of the respective ideals of beauty that exist between men and women, fat is also distributed differently. Women tend to have more fat accumulation in the waist and lower body, while men can be more prone to storing fat in the belly and upper body. Furthermore, female patients often desire curvy, more sensual contours, which deviates from the sharp and defined silhouette typically sought after by male patients. These factors influence how liposuction is performed for each patient, and the procedure is ultimately tailored to an individual's goals, concerns, and anatomical indicators. When enhancing the physique through male plastic surgery, Dr. Schooler is careful to highlight the masculine contours to achieve outcomes that look natural. This provides a completely personalized experience uniquely developed for each patient.
Additional Liposuction FAQs
How do I prepare for liposuction surgery?
Liposuction is usually performed under general anesthesia, which means you should arrange for a friend or loved one to drive you home and to help you out around the house—at least for the first night of recovery. While most individuals undergo liposuction as an outpatient surgery, you may require an overnight stay if a large volume of fat is being removed.
In order to maximize your safety, it's necessary to stop smoking before and after the procedure to prevent complications during healing. Dr. Schooler will also instruct you to avoid taking aspirin and other anti-inflammatory medications to minimize bleeding during surgery. There may also be certain lifestyle changes or weight loss goals recommended before undergoing liposuction to ensure the best possible outcome. Rest assured that Dr. Schooler will provide you with detailed instructions about preparing for surgery during your consultation or pre-operative appointments.
Can I get neck liposuction to get rid of a double chin?
Yes, facial liposuction is available to slim the area under the neck (also known as the submental region) and sharpen the jawline. This surgery uses a smaller cannula than a body liposuction procedure to extract stubborn fat deposits in the neck, thereby smoothing a double chin. Like liposuction procedures that target the body, the best results with submental fat removal are achieved when patients have good skin tone with little to no laxity. If your skin has loosened or descended, a neck lift may be a more beneficial treatment option to restore a sleeker and more youthful contour.
Alternatively, some patients find that their facial profile may be better improved by correcting a recessed chin rather than reducing excess fullness. Dr. Schooler also offers chin augmentation with custom implants for patients who would like to better balance their facial proportions. These facial implants can be customized to the ideal size and dimensions for your facial profile to help ensure natural-looking results.
Can liposuction reduce the size of my breasts?
Liposuction is generally not enough to reduce an overly large breast size, as excessive breasts typically consist of glandular breast tissue as well as excess fat. While liposuction may help remove isolated fat deposits, surgical excision of redundant breast tissue is often additionally required to achieve aesthetically optimal results. This is typically true in cases of gynecomastia as well, although a small number of male patients may be able to reduce their enlarged breasts through liposuction alone.
How much fat can be removed in a single procedure?
The maximum amount of fat that can be safely extracted in one surgery is approximately 5 liters according to the American Society of Plastic Surgeons (ASPS); however, new research from the ASPS has suggested that the most appropriate degree of fat removal should instead be assessed based on each patient's unique anatomical indicators. Dr. Schooler will help you determine the safest volume of fat to be removed according to your BMI and body contouring goals.
How old do you have to be to get liposuction?
Liposuction is available for adults who are 18 and older. As an elective procedure, it's important for a liposuction patient to fully understand the benefits, risks, and limitations of body contouring surgery while maintaining realistic expectations for the outcome. This often requires a level of emotional and physical maturity usually achieved during adulthood.
Can I gain weight after liposuction?
Yes, liposuction does nothing to prevent weight gain in the future. Additional weight gain and fat buildup after liposuction can potentially alter the outcome of your procedure, as well as create irregular body contours. For this reason, our team highly recommends maintaining a regular exercise regimen after surgery to get the most out of your liposuction results.
Is liposuction safe?
Liposuction is considered one of the safest and most predictable cosmetic procedures today, featuring decades of research and successful results to support its effectiveness. However, it's paramount that liposuction is performed by a board-certified plastic surgeon with extensive experience in cosmetic body contouring treatments. Strong patient education and enlisting the care of a highly qualified plastic surgeon are generally the best ways to maximize the safety of your procedure.
Will insurance provide coverage for liposuction?
No, liposuction is considered an elective cosmetic procedure. Because selective fat removal is not deemed medically necessary, insurance providers generally don't provide coverage for liposuction. However, Santa Barbara Plastic Surgery Center accepts third-party plastic surgery financing from CareCredit® and ALPHAEON™ Credit for qualified patients. These payment plans can help provide a more manageable way to pay for cosmetic treatments and procedures.
How much weight is lost during the liposuction procedure?
The goal of liposuction is generally to resculpt areas affected by excess fat accumulation, leading to a slimmer and more toned appearance. Since liposuction is not necessarily designed to achieve weight loss, the amount of weight shed is usually minimal. For patients who primarily aim to lose weight, Dr. Schooler recommends consulting with your doctor or a bariatric surgeon to develop an ideal treatment plan to achieve your health goals. Once you've reached your desired weight, Dr. Schooler also offers post-bariatric body contouring surgery to remove excess hanging skin.
What's the difference between subcutaneous fat and visceral fat?
Subcutaneous fat refers to the fatty tissue residing just underneath the surface of the skin. Visceral fat is the "hidden" internal fat found between the abdominal organs, which can only be reduced with dieting and exercise. While liposuction can be very effective at removing subcutaneous fat, the procedure does not affect visceral fat in the abdomen. This is why some liposuction patients still contend with a bulging or protruding abdomen, despite undergoing treatment to remove surface fat. The most successful liposuction results are usually seen when patients live a healthy, active lifestyle.
To learn more about liposuction, or to schedule a consultation, please contact Santa Barbara Plastic Surgery Center today.