What is Rhinoplasty?
Each year nearly two hundred thousand men and women opt for nose reshaping, a procedure medically referred to as rhinoplasty. Rhinoplasty is designed to alter the dimensions of the nasal framework to produce a more harmonious facial aesthetic. If your nose seems disproportionate in relation to your surrounding facial features, our plastic surgeon at the Santa Barbara Plastic Surgery Center can help you achieve natural-looking enhancement by recontouring the nose for improved balance among your eyes, cheeks, lips, and chin. Depending on your ideal aesthetic, the shape, size, and general appearance of the nose can all be modified. Dr. Wesley Schooler can assess your unique concerns and develop a treatment plan tailored to produce your desired outcome. Feel free to learn what can be achieved with rhinoplasty surgery by exploring our before-and-after photos.
What Can a Rhinoplasty Achieve?
Rhinoplasty can address lifelong issues you may have with the shape and definition of your nose, or repair changes to the nasal structure that may have occurred as a result of injury. In addition to the aesthetic benefits of nose reshaping, the procedure can also provide relief from a deviated septum or nasal valve collapse and help you breathe more easily through the nose. In general, a rhinoplasty can:
Straighten the nasal bridge
Increase or decrease the size of the nose
Adjust the angle of the nasal tip
Alter the dimensions of the nostrils
Correct a deviated septum
Open the nasal valves
Revise a previous nose surgery
Dr. Schooler will ask you about your cosmetic and functional concerns during a consultation to obtain an understanding of your surgical goals. After evaluating your nasal framework, they will discuss whether open or closed rhinoplasty would be the most beneficial technique for your unique needs.
How is the Rhinoplasty Procedure Performed?
Dr. Wesley Schooler emphasizes strong communication and patient education at our practice. At your initial rhinoplasty consultation, one of our doctors will discuss all aspects of the nose reshaping procedure with you and answer all of your questions. They will explain what pre-operative steps you will need to take, as well as what you can expect during recovery from the procedure. Rhinoplasty is usually an outpatient procedure performed under general anesthesia.
Open vs. Closed Rhinoplasty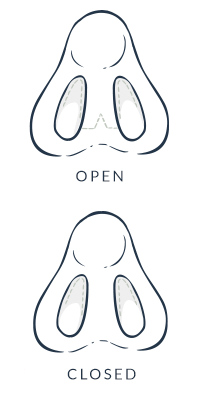 Rhinoplasty is primarily performed using either the open or closed technique. In open rhinoplasty, our facial plastic surgeon accesses the nasal framework through an incision at the base of the columella, the strip of tissue that separates the nostrils. The incision heals very well and is usually barely visible by three months after surgery. This location can offer uninhibited visibility of the internal nasal structure, allowing a high degree of surgical control. Closed rhinoplasty utilizes an incision that is hidden internally for undetectable post-operative scarring. This approach can be appropriate in select cases of nose surgery, but the closed technique is not usually recommended for complex procedures or for revision rhinoplasty.
What is Recovery From Rhinoplasty Like?
After rhinoplasty, a nasal splint and/or protective dressings are worn for one week to facilitate proper healing of your nose. Swelling, tenderness, and bruising are normal and can be managed with oral pain medications. Most patients can return to non-strenuous work and daily activities within 7 to 10 days, although exercise and strenuous activity should be avoided for four to six weeks.
While swelling of the nose is normal for the first few months after surgery, it should gradually dissipate to reveal your rhinoplasty results. The final outcome generally improves as time passes and swelling fully subsides. Dr. Schooler will provide detailed after-care instructions to optimize your recovery.
How Much Does Rhinoplasty Cost?
The cost of rhinoplasty is calculated on a patient-to-patient basis depending on the details of your unique procedure. While the price of cosmetic surgery ranges nationwide according to both geographic location and the expertise of a plastic surgeon, your cost estimate will ultimately be determined by:
The surgical technique used
The complexity of your procedure
Whether you have had previous nose surgery
The extent of concerns to be addressed
Dr. Schooler will be able to assess your needs in an initial consultation, at which point our office can provide you with a personalized quote. To make your rhinoplasty expenses more manageable, our practice works with CareCredit® and Alphaeon™ Credit. These companies provide affordable plastic surgery financing for qualified applicants, offering candidates a variety of payment plans with low- to no-interest rates. For more information on the cost of rhinoplasty, please contact our practice to speak with a member of our team.
With rhinoplasty, our plastic surgeon can renew balance among facial features and give your nose the shape and symmetry to meet your ultimate aesthetic goals. For more information on rhinoplasty, or to schedule a consultation, please contact us today.