Choosing a Post-Weight Loss Body Contouring Surgeon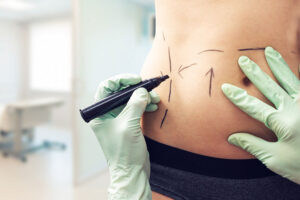 Losing weight can be an uphill battle, but the confidence of improving your health and achieving your aesthetic goals is incomparable. When it comes to cosmetic procedures after weight loss surgery, comprehensive research before your procedure(s) is vital. While finding the right plastic surgeon to achieve your goals can be daunting, we encourage you to follow these tips to help narrow down your potential options:
Select an extensively experienced board-certified plastic surgeon in Santa Barbara: Make sure your cosmetic surgeon is accredited by the American Board of Plastic Surgery (ABPS), as plastic surgeons who are board-certified generally have the highest caliber of training in aesthetic body lifting procedures like brachioplasty, abdominoplasty, and mastopexy.
Research their reputation and online reviews: In many cases, a doctor's reviews can be a telling indication of the level of patient care you can expect to receive. Exploring these online reviews by previous patients can help you determine whether you feel comfortable entrusting a prospective surgeon with your goals.
Review before-and-after photos: Ultimately, the photos in your plastic surgeon's portfolio should mirror the types of results you wish to achieve. That said, we encourage you to explore his/her patient gallery to assess whether the outcomes depicted align with your goals.
Visit their practice for a consultation: Feeling comfortable and confident under a plastic surgeon's care can make your plastic surgery journey much easier. Book a consultation with a surgeon you're interested in to not only speak about your goals more personally, but also to get a feel for the environment at their practice.
Post-weight loss procedures can help resculpt areas affected by residual hanging skin after significant weight loss, resulting in a slimmer and leaner look. For many individuals, body contouring surgeries like a tummy tuck, breast lift, thigh lift, and arm lift are often the last step in their aesthetic transformations.
If you're looking for solutions to get rid of hanging skin, Dr. Wesley Schooler understands that you likely have many questions. He can evaluate your concerns and listen to your goals to develop the best possible treatment plan for your needs. Contact our Santa Barbara practice for more information about our body lift procedures or to book a consultation.