Santa Barbara Plastic Surgeons Launch Responsive Mobile Website as a New Educational Resource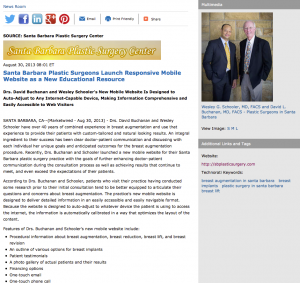 Dr. Wesley Schooler's new mobile website is designed to auto-adjust to any internet-capable device, making information comprehensive and easily accessible to web visitors.
Santa Barbara, CA – Dr.Wesley Schooler have over 10 years of experience in breast augmentation and use that experience to provide his patients with custom-tailored and natural looking results. An integral ingredient to his success has been clear doctor-patient communication and discussing with each individual her unique goals and anticipated outcomes for the breast augmentation procedure. Recently, Dr. Schooler launched a new mobile website for his Santa Barbara plastic surgery practice with the goals of further enhancing doctor-patient communication during the consultation process as well as achieving results that continue to meet, and even exceed the expectations of his patients.
According to Dr. Schooler, patients who visit the practice having conducted some research prior to their initial consultation tend to be better equipped to articulate their questions and concerns about breast augmentation. The practice's new mobile website is designed to deliver detailed information in an easily accessible and easily navigable format. Because the website is designed to auto-adjust to whatever device the patient is using to access the internet, the information is automatically calibrated in a way that optimizes the layout of the content.
Features of Dr. Schooler's new mobile website include:
Procedural information about breast augmentation, breast reduction, breast lift, and breast revision
An outline of various options for breast implants
Patient testimonials
A photo gallery actual patients and their results
Financing options
One-touch email
One-touch phone call
An interactive map for office directions
Detailed biographies of the plastic surgeons
Dr. Schooler hope that the new mobile website will be used as a resource for both current and prospective Santa Barbara breast augmentation patients. By providing patients with a means to educate themselves in a format that is convenient as well as informative, Dr. Schooler believes breast augmentation consultations will increasingly be a time for constructive dialogue between doctor and patient, with each party collaborating to achieve a common aesthetic goal.
About Wesley G. Schooler, MD, FACS
Dr. Wesley Schooler earned his medical degree at the University of North Carolina at Chapel Hill, where he continued on to train in general surgery and critical care. He completed his plastic surgery residency at the University of California-San Francisco. A board-certified plastic surgeon, Dr. Schooler joined the Santa Barbara Plastic Surgery Center after serving as an Assistant Professor of Surgery at the University of Southern California and the Service Chief of Plastic Surgery at LAC-USC Medical Center. He is available for interview upon request.
For more information about Santa Barbara Plastic Surgery Center, visit santabarbarabreast.com or facebook.com/pages/Santa-Barbara-Skin-Aesthetics/90407104284?ref=nf.