Santa Barbara Plastic Surgeon Highlights Reconstruction Options for Breast Cancer Patients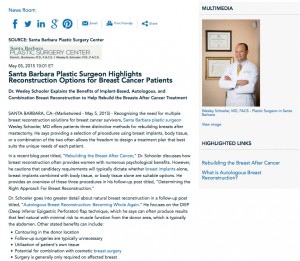 Dr. Wesley Schooler explains the benefits of implant-based, autologous, and combination breast reconstruction to help rebuild the breasts after cancer treatment.
Santa Barbara, CA—Recognizing the need for multiple breast reconstruction solutions for breast cancer survivors, Santa Barbara plastic surgeon Wesley Schooler, MD offers patients three distinctive methods for rebuilding breasts after mastectomy. He says providing a selection of procedures using breast implants, body tissue, or a combination of the two often allows the freedom to design a treatment plan that best suits the unique needs of each patient.
In a recent blog post titled, "Rebuilding the Breast After Cancer," Dr. Schooler discusses how breast reconstruction often provides women with numerous psychological benefits. However, he cautions that candidacy requirements will typically dictate whether breast implants alone, breast implants combined with body tissue, or body tissue alone are suitable options. He provides an overview of these three procedures in his follow-up post titled, "Determining the Right Approach For Breast Reconstruction."
Dr. Schooler goes into greater detail about natural breast reconstruction in a follow-up post titled, "Autologous Breast Reconstruction: Becoming Whole Again." He focuses on the DIEP (Deep Inferior Epigastric Perforator) flap technique, which he says can often produce results that feel natural with minimal risk to muscle function from the donor area, which is typically the abdomen. Other stated benefits can include:
Contouring in the donor location
Follow-up surgeries are typically unnecessary
Utilization of patient's own tissue
Potential for combination with cosmetic breast surgery
Surgery is generally only required on affected breast
Furthermore, Dr. Schooler says, "[The transplanted tissue] pretty much lives with you and moves with you and is durable for many years. It doesn't require any changes or cause contraction." The only caveat, he notes, is patients undergoing radiation therapy should generally wait until completing their treatments. He clarifies which procedures are available to irradiated patients in a blog titled, "Breast Reconstruction and Radiation Therapy." Though complications can arise with certain breast implant-based reconstruction methods following radiation, he also says a combination technique using implants and healthy tissue can often rebuild the breast mound with fewer risks than procedures utilizing implants alone.
Ultimately, Dr. Schooler says he aims to help restore confidence in patients dealing with breast cancer. Noting the rewarding nature of the work, he states, "With breast cancer, it's a very emotional thing for women. The satisfaction that they can kind of move past dwelling on the cancer and really focus on becoming whole again, feeling normal again…that's the best satisfaction."
About Wesley Schooler, MD, FACS
Dr. Schooler is a board-certified plastic surgeon with over 11 years of training. He earned his medical degree and completed General Surgery and Critical Care training at the University of North Carolina at Chapel Hill. He then completed a residency in Plastic Surgery at the University of California, San Francisco before relocating for a fellowship in Orthopaedic Hand Surgery and Microsurgery at the Hand Center of San Antonio, where he simultaneously obtained extensive experience in breast microsurgical reconstruction. Dr. Schooler continues to train in the latest techniques and participates in innovative research in the field of plastic surgery. He is available for interview upon request.
To learn more about Dr. Schooler and Santa Barbara Plastic Surgery Center, please visit sbplasticsurgery.com and facebook.com/pages/Santa-Barbara-Skin-Aesthetics/90407104284.
Contact:
Santa Barbara Plastic Surgery Center
427 W. Pueblo St.
Santa Barbara, CA 93105
(805) 395-4545
Rosemont Media
(858) 200-0044
www.rosemontmedia.com