Symptoms of Macromastia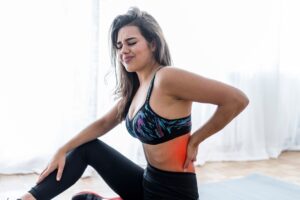 "Macromastia" is the medical term for large breasts. While many women are born with large breasts and experience no issues, a significant portion struggle with symptoms caused by the excessive weight of their breast size. These effects can range from minor burdens to debilitating health problems that diminish your quality of life. Some of the most common symptoms of large breasts — sometimes referred to as "breast hypertrophy" — include: 
Chronic pain in the back, neck, and shoulders
Grooving in the shoulders
Chest wall pain
Headaches
Poor posture
Tingling or numbness in the hands and fingertips
Shortness of breath and labored breathing
Rashes and skin irritation underneath the breasts
Reduced capacity to exercise
Disturbances during sleep
Unfortunately, overly large breasts will not improve on their own and often grow more pendulous (hanging) over time. If you find that a dominating breast size is interfering with your goals or if you simply want lighter and more manageable breasts, our plastic surgeon in Santa Barbara offers breast reduction surgery — a procedure that is widely considered the most powerful solution for a dominating breast size. A breast reduction can successfully make the breasts more proportional to the rest of your body by reducing excess skin, fat, and glandular tissue in the chest. This can greatly improve, or even completely resolve, the painful symptoms caused by excessively large breasts. 
Dr. Wesley Schooler can listen to your concerns and recommend an optimal treatment plan to make your ideal outcome a reality. A breast reduction naturally offers some of the benefits of a breast lift, and our team can help determine the best type of procedure to achieve your goals. Please contact Santa Barbara Center for Plastic Surgery to schedule a consultation or to learn more.