What is Eyelid Surgery?
The eyes are often the most expressive part of the face. Unfortunately, signs of aging or exhaustion around the eyes can belie messages about how you feel. If your eyelids are droopy, puffy, or rimmed by dark circles, you can appear tired, unhappy, or even angry. At our practice, eyelid surgery—medically referred to as blepharoplasty—can remove excess fat and droopy skin from the upper and lower eyelids, typically resulting in a brighter, more rested appearance.
What are the Benefits of Eyelid Surgery?
Santa Barbara plastic surgeon Wesley Schooler, MD performs blepharoplasty to rejuvenate the eyes and achieve a more refreshed, youthful facial appearance. The procedure can address the upper and/or lower eyelids for very natural-looking results. The benefits of the procedure are usually contingent on your aesthetic goals, but eyelid surgery can generally:
Tighten loose musculature above the eyes for reduced upper eyelid drooping
Remove excess skin around the upper and/or lower eyelids
Remove or reposition fatty deposits causing under-eye bags and puffiness
Smooth the look of "crow's feet," fine lines, and other wrinkles around the eyes
When skin and fatty tissue become increasingly lax and the upper eyelids begin to sag into your line of sight, this is known as "upper eyelid hooding." Blepharoplasty can be used to correct hooding of the eyelids and restore the full scope of your vision. Depending on the extent and location of the upper eyelid hooding, Drs. Schooler may recommend a brow lift combined with a blepharoplasty. In certain cases of obstructed vision caused by drooping eyelids, medical insurance may be able to provide partial or full coverage for eyelid surgery.
How is the Eyelid Surgery Procedure Performed?
Upon consulting with our cosmetic surgeon about eyelid surgery, you will discuss whether or not you are a qualified candidate for the procedure. If you are a candidate, you will go on to discuss the details of your eyelid surgery. At this point, it is wise to ask any questions you have regarding the procedure. Dr. Schooler will be happy to explain all aspects of treatment, including health concerns associated with eyelid surgery, the benefits of the procedure, and any other issues.
Eyelid surgery is typically an outpatient procedure performed under general anesthesia. In upper blepharoplasty, the incision is usually placed within the natural crease of the eyelid. From this point, Dr. Schooler will recontour the eyelids to create the desired aesthetic. Loose skin and excess fat will be removed while lax musculature will be tightened. Lower blepharoplasty utilizes an incision hidden inside the lower eyelid. Excess lower eyelid fat will be repositioned to smooth eye bags and minimize puffiness. Depending on your cosmetic goals, lax skin can also be addressed. Our plastic surgeon works to make incisions as undetectable as possible for a natural-looking final outcome.
There are often a number of alternative options that may benefit your needs if you are not a candidate for eyelid surgery. It is common for patients to combine eyelid surgery with a brow lift for more extensive rejuvenation of the upper face. In addition, we offer under-eye hyaluronic acid-based fillers, CO2 resurfacing laser treatments, and medical-grade skin care to supplement our surgical options.
What is Recovery From Eyelid Surgery Like?
Swelling, bruising, and tenderness is common for a few days after eyelid surgery. Oral pain medications can be used to manage any discomfort, but these reactions typically resolve on their own as recovery progresses. Your surgeon will provide specific after-care instructions in person, but in general, applying ice to the eyes and keeping the head elevated can help minimize swelling and facilitate the healing process. Most patients can return to work and daily routines in one week, although strenuous activity should be avoided for approximately one month.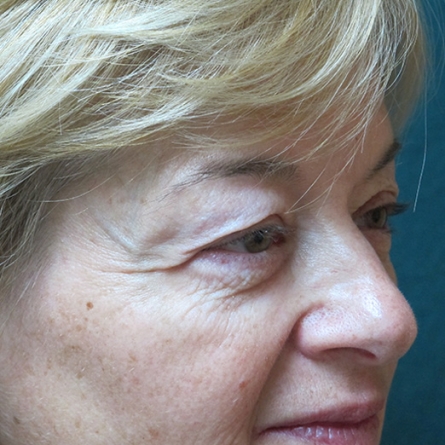 Before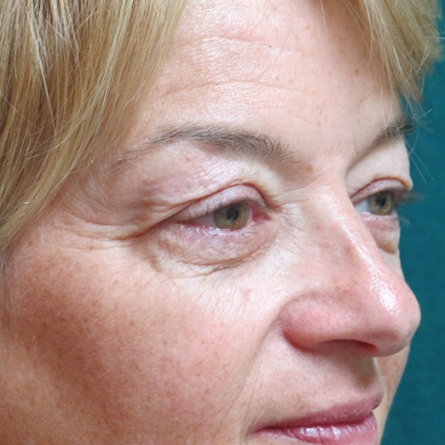 After
How Much Does Eyelid Surgery Cost?
Many factors can influence the cost of eyelid surgery, including whether both the upper and lower eyelids are being addressed as well as the extent of surgical work required to achieve your goals.
After your needs and goals are assessed in a consultation, our office will be able to provide you with a personalized quote of your blepharoplasty expenses. If you would prefer to pay for your surgery over a period of time, Dr. Schooler works with CareCredit® and Alphaeon™ Credit to provide patients with affordable plastic surgery financing options. These healthcare lending companies offer qualified applicants a number of payment plans with low monthly installments to suit their unique budget. To learn more about our accepted modes of payment, please don't hesitate to reach out to our practice.
Please feel free to request a brochure on eyelid surgery procedures from the Santa Barbara Plastic Surgery Center. Contact us today for more information, or to schedule a consultation.