Breast implants can be a great option for women who would like to add volume to the breasts and enhance their physique and our board-certified plastic surgeon in Santa Barbara, Dr. Wesley Schooler, is one of the area's best choices to help you learn more about breast implants. During your initial consultation, Dr. Schooler will thoroughly detail the pros and cons of all implant types, shapes, sizes, and surgical techniques to help you make an educated and confident decision. Let us help you enhance your silhouette with an individualized treatment plan for beautiful natural-looking breast implants.
If you would like more information, please contact the Santa Barbara Plastic Surgery Center today.
Breast Implant Options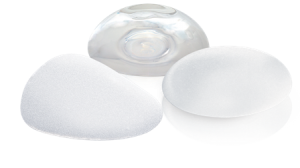 At our practice, patients considering breast augmentation have the option to choose between silicone or saline breast implants. The choice of which type of implant mainly depends on the one that can best meet your personal breast enhancement goals as well as your unique physical needs. Each implant type offers distinct advantages. At your consultation, our plastic surgeon will go over your options thoroughly and explain the differences and give you an opportunity to touch, feel, and try on different implant sizes.
Silicone Breast Implants
Silicone implants have been used for decades since their conception in the 1960s. Dr. Schooler actually serves as an expert clinical consultant for the two largest breast implant manufacturers in the United States. Needless to say, Dr. Schooler is highly-skilled and experienced with silicone breast implants. While there was a brief time between 1992 and 2006 when silicone implants were not being used while the FDA conducted in-depth studies on the risks and safety of the implants, they have since been deemed safe by the FDA for breast augmentation patients over the age of 22. They have continued to be frequently used by plastic surgeons all over the world. Silicone is lightweight and closely resembles the look and feel of actual human breast tissue. Silicone implants are often called "the gold standard" of breast implants because they are designed to create high-quality, beautiful, natural-looking results.
Saline
Saline implants are FDA-approved for use in breast augmentation procedures for patients aged 18 and over, and have been a popular choice of plastic surgeons and breast implant patients for decades. Saline implants are unfilled at the time of insertion, allowing for a smaller incision to insert the silicone outer shell. Once inserted, the implants are then filled with a saline solution. The smaller incision associated with saline implants often leaves minimal visible scarring following surgery. Saline implants can be a great option for natural-looking, appealing results.
Whether a saline or silicone breast implant is best for your needs and goals will be determined in your initial consultation. Our plastic surgeon will also go over sizes and shapes that can produce the best possible results, and create a personalized treatment plan based on your decisions.
Breast Implant Exchange
With the abundance of innovative and figure-flattering breast implant options now available, many patients who have had a previous breast augmentation procedure wish to replace their current implants with a different size, shape, or type. In other cases, individuals may require a breast implant replacement if they experience problems related to capsular contracture, deflation, or asymmetry. Regardless of the motivation, our skilled plastic surgeon can help women seeking breast implant revision achieve their enhancement goals.
For more information about breast implant exchange, please visit our sister site, Santa Barbara Breast Augmentation, to read more.

If you would like to learn more about breast implants and how they can help you meet your goals, or if you would like to schedule a consultation with Dr. Schooler, please contact our office today.