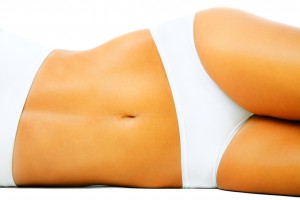 Loose, excess skin in the midsection that is unresponsive to exercise can often be effectively addressed with a tummy tuck (abdominoplasty). This procedure goes a few steps further than liposuction, more effectively recontouring the skin in the stomach region to eliminate the excess fat and give you a tighter, flatter looking stomach region.
Our experienced, board-certified plastic surgeon at the Santa Barbara Plastic Surgery Center, Dr. Wesley Schooler, will create a skin flap along the abdominal region and eliminate the excess skin and fat. He will then tighten the muscles of the abdomen, pulling them taut, and replace the skin flap creating a much firmer, more fit-looking appearance. The entire procedure typically lasts from two to five hours, depending on the extent of the tummy tuck. This treatment is usually performed on an outpatient basis under general anesthesia.
Belly Button Revision
The belly button can alter its shape over time due to a number of factors such as weight fluctuations, pregnancy, or other causes. A belly button revision surgery can reshape its appearance to make it more to your liking. Plus, our plastic surgeon can even make "outies" into "innies" with this effective procedure.
Your Tummy Tuck Consultation
With tummy tuck (abdominoplasty) or belly button revision surgery, our plastic surgeon will meet with you on a one-on-one basis to discuss all aspects of the procedure and your individual goals. Our surgeon encourages you to ask any questions you may have, and will address all of your concerns. With any type of surgery, you should be confident that you are working with a skilled, experienced, board-certified cosmetic plastic surgeon. Dr. Schooler will be happy to discuss his background with you to ensure you feel you are in the right hands.
For more information on tummy tuck surgery or belly button revision, or if you would like to schedule a consultation, please contact us today.