What is a Tummy Tuck?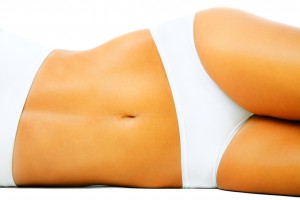 A common aesthetic concern among a diverse range of patients is excess skin in the abdomen, often resulting from weight fluctuation, pregnancy, or the aging process. As dieting and exercise cannot tighten redundant skin, many individuals struggle with attaining the flat and smooth look in the abdomen that they desire. While virtually impossible to resolve naturally, loose, excess skin in the midsection can be addressed with a tummy tuck (abdominoplasty). This procedure goes a few steps further than liposuction and can more effectively recontour the stomach region to eliminate excess skin and fat, providing a tighter, flatter abdominal appearance.
What Can a Tummy Tuck Do?
A tummy tuck is considered a highly effective body contouring procedure that can slim the waistline while firming and smoothing the appearance of the midsection. Not only can abdominoplasty remove excess skin, but the procedure is also designed to tighten separated abdominal musculature— this can improve the look of a hanging or protruding abdomen. In general, a tummy tuck is performed to:
Tighten muscles in the abdomen for an improved abdominal contour
Remove excess skin, creating a smoother and flatter abdomen
Eliminate some degree of stubborn fat in the abdomen
Reshape the belly button, if necessary
With the ability to bring together loose or stretched abdominal muscles, a tummy tuck is popularly incorporated into a Mommy Makeover. This customized series of treatments is designed to address the areas commonly affected by pregnancy and nursing, often with the goal of restoring a patient's pre-pregnancy figure. If you are interested in a Mommy Makeover, Dr. Schooler can examine your concerns and work with you to develop the best treatment plan for your needs.
How is the Tummy Tuck Procedure Performed?
Our experienced, board-certified plastic surgeon at the Santa Barbara Plastic Surgery Center, Dr. Wesley Schooler, will create a skin flap along the abdominal region and eliminate the excess skin and fat. He will then tighten the muscles of the abdomen, pulling them taut, and replace the skin flap, creating a much firmer and fit-looking appearance. The entire procedure typically lasts from three to six hours, depending on the extent of the tummy tuck. This treatment is usually performed on an outpatient basis under general anesthesia.
Belly Button Revision
The belly button can alter its shape over time due to a number of factors, such as weight fluctuation, pregnancy, or other reasons. A belly button revision surgery can reshape its appearance to make the look of the naval more aesthetically favorable. If interested, our plastic surgeon can even transform "outies" into "innies" with this effective procedure.
What is Recovery From a Tummy Tuck Like?
After surgery, a compression garment may be worn to reduce swelling and facilitate the healing of your new body contours. Dr. Schooler will provide medications for any post-operative bruising, swelling, and discomfort. While plenty of rest is strongly encouraged after a tummy tuck, walking around periodically and light ambulation can help prevent blood clots during the healing process. When getting around, you may need to walk with a slight bend in the knee for the first couple of days. Dr. Schooler will discuss this in more detail with you in person. Most patients can return to their normal schedules within 10 days to two weeks; however, exercise and strenuous activity should be avoided for at least four weeks.
How Much Does a Tummy Tuck Cost?
A tummy tuck is customized according to the extent of your concerns, with the cost of the procedure similarly personalized. Factors that often affect the price of a tummy tuck include the technique used, the amount of surgical work to be done, and your aesthetic goals, as well as fees for the surgeon, anesthesia, and operating facility. Once Dr. Schooler assesses your needs in a consultation, our Patient Care Coordinator will be able to provide you with a personalized quote of your procedure.
We offer a number of different payment options, including plastic surgery financing through trusted healthcare lending companies such as CareCredit® and Alphaeon™ Credit. These leading financial institutions allow qualified applicants to choose from a range of low- to no-interest payment plans for the option that suits their budget most ideally. If you would like to learn more about the cost of a tummy tuck, please contact our practice to speak to a member of our team.
Your Tummy Tuck Consultation
With tummy tuck (abdominoplasty) or belly button revision surgery, our plastic surgeon will meet with you on a one-on-one basis to discuss all aspects of the procedure and your individual goals. Our surgeon encourages you to ask any questions you may have, and will address all of your concerns. With any type of surgery, you should be confident that you are working with a skilled, experienced, board-certified cosmetic plastic surgeon. Dr. Schooler will be happy to discuss his background with you to ensure you feel you are in the right hands.
For more information on tummy tuck surgery or belly button revision, or if you would like to schedule a consultation, please contact us today.