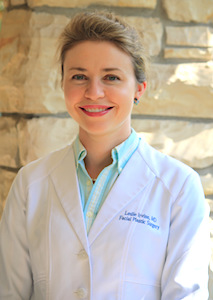 Dr. Leslie Irvine is a board-certified otolaryngologist and fellowship-trained reconstructive and facial plastic surgeon.
Dr. Irvine received her undergraduate degree from Harvard College with honors in neurobiology. While focusing on Harvard's very demanding curriculum, she also captained the cross country team and was a member of the track and field team for four years. Dr. Irvine went on to complete her medical studies at Harvard Medical School. During those four years, she was an active member of the academic and local community. In addition to serving on the admissions committee, Dr. Irvine also volunteered to provide healthcare to Cambridge's local homeless population, and participated in clinical research evaluating the delivery of primary care to rural areas of Greece.
Following her graduation from Harvard Medical School, Dr. Irvine completed a rigorous five-year residency program in head and neck surgery at the University of Southern California. Performing over 2000 surgeries during this time, she was appointed Chief Resident in her final year.
After residency, Dr. Irvine chose to pursue her surgical passion and specialize in facial plastic and reconstructive surgery. She was accepted into one of the most prestigious fellowship programs in the country with Drs. Nassif, Azizzadeh, and Massry in Beverly Hills, California. During this intense program, Dr. Irvine participated in over 500 surgical cases, learning specialized surgical approaches and techniques that these world renowned surgeons have perfected from over 50 years of combined experience.
Facial plastic surgery allows Dr. Irvine to combine her creativity and love of art and drawing with the uncompromising science of medicine. She is very detail-oriented and meticulous in the operating room, always striving to achieve the most desirable aesthetic results for her patients. After six years of extensive training in Los Angeles, Dr. Irvine is very excited to bring her specialized skill set and comprehensive experience in facial plastic surgery to the Santa Barbara community.
Outside of work, Dr. Irvine is an avid runner and has completed two marathons. She also enjoys hiking, skiing, playing tennis, cooking, and spending time with her husband and daughter.
Dr. Irvine would be happy to answer any questions or concerns you may have regarding the wide range of treatments we offer. To learn more, or to schedule a consultation, please contact our practice today.